Onnit Hemp Force Vanill-Acai Protein
High Protein Superfood!
Hemp Protein
The protein isolated from hemp contains a unique mixture of two proteins, edestin and albumin, present in a 3-to-1 ratio. Edestin is a globular protein found only in hemp and contains a higher content of essential amino acids compared to soy protein. Human albumin is a water-soluble transport protein in the blood, synthesized in the liver using available dietary protein. Dietary albumin is present in high concentrations in non-vegetarian sources of protein, such as dairy and meat. Inadequate protein intake or vegetarian diet can lead to low levels of blood albumin, resulting in muscle weakness and fatigue. Consuming hemp protein and other foods with high albumin content can help boost the body's ability to synthesize human blood albumin, offering all the health benefits of a complete protein.
Açaí Berry
A fruit with one of the highest recorded ORAC values of any natural food, the native Brazilian açaí berry has been praised for its antioxidant potential and delicious taste. This deep purple superfood is also an excellent source of anthocyanins, a class of flavanoids that are particularly healthy for the human body.
Mesquite Powder
While it may share the name of your favorite BBQ smoking wood, mesquite powder is actually the powdered seed pod from a plant native to the arid regions of the Americas. Packed with protein and micronutrients this powder has a naturally sweet flavor reminiscent of a nutty molasses. Some of the nutrients found in mesquite include: Lysine, Calcium, Magnesium, Potassium, Iron, Zinc, Dietary Fiber.
Chia Seeds
Chia has been a staple superfood of the Americas as far back as the Aztec empire, but recently it is made a powerful resurgence. Evidence for this can be found in the most unlikely places, including a Wall Street Journal article that called chia the "The NFL's Top Secret Seed". This is attributable not only to the clean, simple taste, but also due to the protein, nutrients and especially the healthy fats it provides. One of these healthy fats is Alpha-Linolenic Acid (ALA) which is widely considered an important nutrient for heart health.
Flax Seeds
When thinking about the health benefits of flax seeds, there are three important categories that come to mind: Omega 3's, Lignans, and Mucilage. Omega 3's are healthy fatty acids, also found in hemp seeds and chia. Lignans and mucilage, however, are a specialty for flax. Mucilage refers to a unique water soluble fiber that is especially helpful for the digestive tract. Not only is this fiber good for your bowels, the mucilage gum can help improve absorption of certain nutrients in the small intestine.
Lignans are also fiber-like compounds, but in addition to their fiber-like benefits, they also help the body provide antioxidant protection due to their structure as polyphenols. This unique characteristic of lignans assists them in a secondary role as phytoestrogens. Along with isoflavones, lignans are one of the few naturally occurring compounds in food that can help regulate estrogen.
Natural Vanilla Flavor
Vanilla has become such a staple flavor in our dietary palate, it is easy to forget where it comes from. If you haven't had the pleasure of seeing and smelling a whole vanilla bean, it is a true natural phenomenon. The rich aroma and pleasant flavor of the vanilla offer the subtle notes that provide the backdrop for the flavor symphony of Hemp FORCE Vanill-Açaí.
Stevia
The leaves of Stevia rebaudiana, a plant native to South America, contain a bioactive glucoside compound that is used as a natural, zero calorie sweetener. In addition to acting as a substitute for sugar, stevia can help the body promote the regulation of healthy blood sugar levels while assisting the body to stimulate healthy immune responses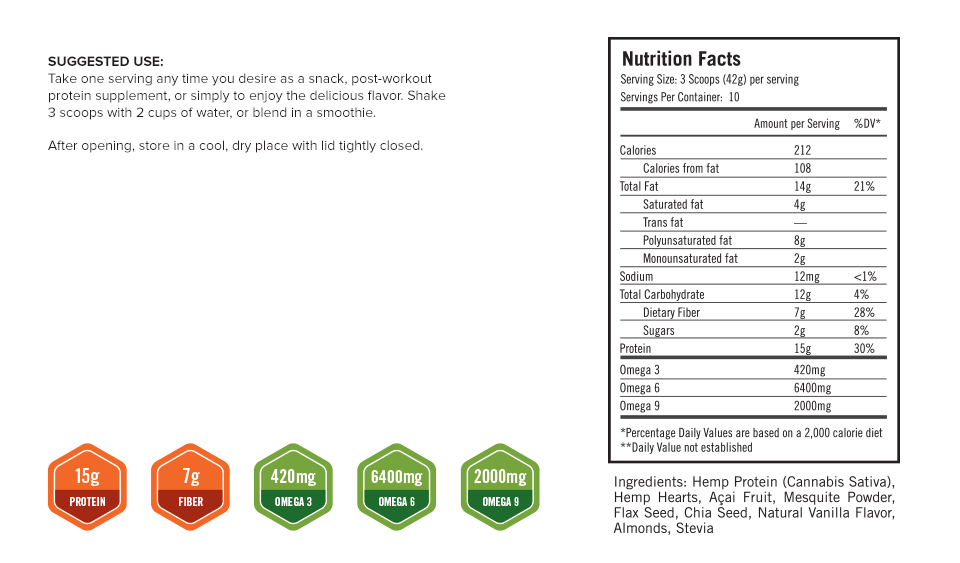 115% Low Price
Guarantee
Award Winning
Customer Service
No Hassle
Returns Process
100% Safe &
Secure Checkout